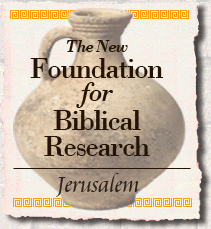 The Century One Foundation is very pleased to announce the commencement of a new project, The New Foundation for Biblical Research.

The project coordinator is Samuel Martin, the son of the late Dr. Ernest L. Martin (1932-2002), one of the founding members of the Foundation for Biblical Research. Samuel Martin lives in Jerusalem and an accomplished researcher in his own right. This new project commenced on January 1, 2008 and our partnership has an initial two year time frame. This new project will focus on the dissemination of Biblical knowledge through:
Publishing, Advocacy, and Training Christians and other interested parties concerning ancient customs/practices relating to children, families and ancient society
Working against violence in the family
Expansion of personal Biblical libraries
Creating original written articles of Biblical research
Creating Bible oriented materials of an audio/visual nature
Public speaking and media outreach
Tours to Israel and
Promoting archaeologically oriented projects and activities.
Stay tuned for updates and announcements of new activities in the near future.



Main Page | Activities | Making A Difference | Articles of Interest | Bookstore | Contact
---
©2012 CenturyOne Foundation, Inc.– a Nonprofit Organization All Rights Reserved.

All materials contained in the CenturyOne Foundation Web Site are protected by copyright and trademark laws and may not be used for any purpose whatsoever other than private, non-commercial viewing purposes. Derivative works and other unauthorized copying or use of stills, video footage, text or graphics is expressly prohibited.