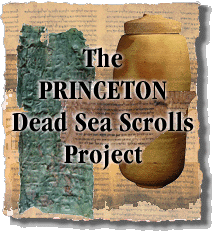 It has been over 50 years since the first Dead Sea Scrolls were found in the hills around Qumran. Some of the Scrolls that were found in jars have come down to us in suprisingly good condition. But time has taken its toll on the texts. Some are beginning to fade and worse still, some have liquified due to natural chemical actions. To recover lost information and to preserve texts for further study is one of the time sensitive goals of the Princeton Dead Sea Scrolls Project. Through the efforts of James Charlesworth and scientists from the Xerox Corporation and the Rochester Institute of Technology, this vital task is beginning to be realized.

Digital technology helped enhance the legibility of the Dead Sea Scrolls. Xerox software separated background colors in the parchment from the lettering itself. This process revealed the secrets of these ancient documents to modern scholars and thereby allowing them to see lines of text never seen before. Dr. Charlesworth said that "until I see something, I cannot translate it. We can see from roughly 400 to 700 waves of light. The new digital Kodak camera my colleagues at Xerox use, sees from 100 to 1000 waves instantaneously. For example, there is a copy of Daniel from 100 BCE. Most of the letters on it are impossible to read. Then, click and click – the sound of digitizing and computers – and in three seconds I can see, read, and interpret what no eye has seen for 2000 years."

"The scrolls have not only revolutionized our understanding of Judaism, but have also clarified the Jewish roots of Christianity and laid foundations for building bridges of understanding between Jews and Christians today."



Funding is a vital part of making this project possible. The CenturyOne Foundation encourages any regular contributions to this project from the public. We can help to increase our knowledge of the origins of Christianity by assisting scholars in projects such as these. Also, by becoming a member of the Princeton Scrolls Society you can help in a very direct and rewarding way. There are four levels of membership — Individual, Friend, Patron, and Benefactor. To join, fill out the membership form and mail it to the CenturyOne Foundation.



---
PREVIOUSLY HIDDEN TEXT NOW SEEN
---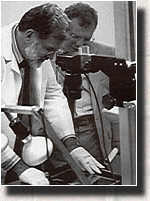 For 2000 years, lines of text that have been invisible to the unaided eye have been revealed. Shown here, fragments of the Dead Sea Scrolls that belonged to His Eminence Mar Athanasius Y. Samuel (Syrian Archbishop-Metropolitan Kingdom in Jerusalem and the Hashemite Kingdom of Jordan), were brought to Princeton Theological Seminary by the Very Reverend John Meno, co-episcopus at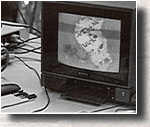 St. Mark's Syrian Orthodox Cathedral in Teaneck, NY. Using a state-of-the-art digital camera, new computer imaging and digitizing techniques, Dr. Keith T. Knox, principle scientist at Xerox, and Drs. Roger Easton Jr. and Robert Johnston of the Rochester Institute of Technology, with Dr. Charlesworth, scientists and theologians became partners in revealing and translating lines of text that have never been seen before.

---

Main Page | Making A Difference | Articles of Interest | Bookstore | Contact
---
©1999 CenturyOne Foundation, Inc.– a Nonprofit Organization All Rights Reserved.

All materials contained in the CenturyOne Foundation Web Site are protected by copyright and trademark laws and may not be used for any purpose whatsoever other than private, non-commercial viewing purposes. Derivative works and other unauthorized copying or use of stills, video footage, text or graphics is expressly prohibited.